Every winter, Naturalist Journeys heads to Belize for a number of fun-filled trips. Here are highlights from a 2016 Belize birding tour.
The highlights detailed in this blog post were from a February 2016 Belize birding tour …  and this trip was extra special: Naturalist Journeys' owner Peg Abbott celebrated her 60th birthday on the trip; it was a bit of a reunion with long-time travel companions, which made for a whole lot of fun. You can read the full trip report here.
Without further ado, here are the highlights, day by day.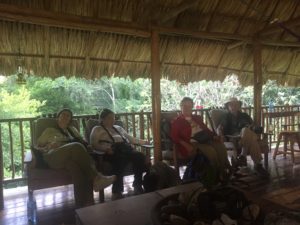 Day 1: Arrivals | Belize Zoo | Pook's Hill Lodge
After assembling at the airport we made a fun stop at the Belize Zoo, complete with amusing signage and interesting mammals that we would see later on in the wild. But today, the highlight was just getting to beautiful Pook's Hill Lodge, relaxing over dinner and drinks, and catching up with good friends. We were greeted by a large troop of Howler Monkeys above the main lodge, certainly a great beginning!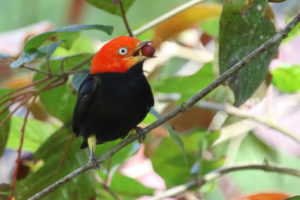 Day 2: Pine Country on a Wet Day
After a rough (and wet, and muddy!) start into pine country, complete with loose wiper blades and a flat tire, we came to our senses, drove to lower elevation and enjoyed the afternoon at Green Hills Butterfly Ranch, complete with a tour of the facility where they raise 18 different species of butterflies. Hummingbirds put on a show and brought smiles to our faces after a rough and wet start to the morning. (The next trip's tour made it to Pine Country with ease and had great looks at Orange-breasted Falcon!)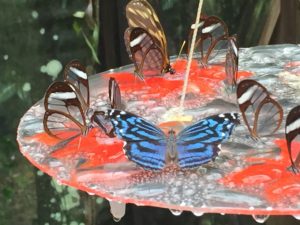 Day 3: Pook's Hill Trails
Today the group stuck close to the lodge, and it was truly a spectacle of Neotropical specialities. Bird highlights included: Gartered and other trogons, two species of manakins, flycatchers, White-whiskered Puffbird, Keel-billed Toucan, Collared Aracari, an array of warblers, Black-headed Saltator, several parrots, Golden-fronted and Black-cheeked Woodpeckers, three different species of doves, and a hummingbird parade at feeders near the bar.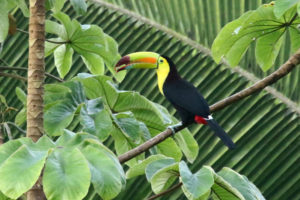 Day 4: Valentine's Day in the Tropics
Today, we transferred to Lamanai Outpost Lodge, and most certainly the highlight was the boat trip to the lodge. We all fit in one boat (snugly!), which let us all enjoy the same sightings: roosting Lesser Nighhawk, Lesser Yellow-headed Vulture, Osprey, herons and egrets, Morelet's Crocodile, numerous butterflies, one turtle, and more. And while the wildlife highlights on the cruise in were aplenty, tonight's coconut pie would go unmatched for the remainder of the trip. YUM.
Day 5: Lamanai Birding & Mayan Ruins
Where to start?! Today was stunning … and we had highlights from sun up to sun down. From warm and glowing morning light as the backdrop to the morning's feeding frenzy, to a visit to and climb atop Mayan temples, to the Bat Falcon that just one of us climbed the temple high enough to view at eye-level (but the rest of us got great scope views), to the banana cream pie, to the under-the-stars night cruise … today was quite a day.
Day 6: Savanna Birding | Sugar Mill Ruins
Highlights today included morning birding in new habitat — a savanna just across the lagoon, three miles by boat. Botteri's Sparrow, Aplomado Falcon, Yellow-backed Oriole, several species of parrots, Northern Cardinal, and a heard-only Yucatan Woodpecker. Then off to the sugar mill ruins, where a Collared Forest Falcon stole the show, calling and then bombarded by a Brown Jay; our local guide and two of the group crashed into the brush to see it, while the rest of us let the drama play out. A sunset cruise was the perfect way to cap the day, with flocks of herons and egrets coming in to roost.
Day 7: Lamanai to Chan Chich Lodge
Before we said goodbye to Lamanai today, a gorgeous Laughing Falcon perched atop a bare tree and gave us all great views. And then it saw us off to Chan Chich Lodge. The welcoming committee here (in addition to the attentive and welcoming staff) were the ever-present Ocellated Turkeys, strutting about and showing off their incredible colors and patterns.
Day 8: Chan Chich Birding | Peg's Birthday!
A birdy morning, indeed: Cinnamon Becard, Yellow-winged Tanager, Yellow-throated Euphonia, a huge Crested Guan, Red-capped Manakin, both Violaceous and Slaty-tailed Trogons, Bright-rumped Attilla, Ochre-bellied and Yellow-olive Flycatchers, and more. Central American Spider Monkeys were fun to watch, too. Then the group split between afternoon ruins birding and walking the suspension bridge. Tonight, we celebrated Peg's 60th birthday with a thoughtful and delicious cake, capped by an open-air-vehicle night drive (no cats, but interesting birds and mammals).
Day 9: Chan Chich Trails
Morning birding in thick, dense forest was not simple, but it was productive. The afternoon was a choice … some exploring the trails, some of us taking a siesta, some relaxing at the lodge. Those that worked the trails worked hard for Tody Motmot — success, and even some good photos! Those that opted to join the post-dinner night drive tonight were in for a treat: a Fer de Lance and a Margay! Those that opted out were certainly envious!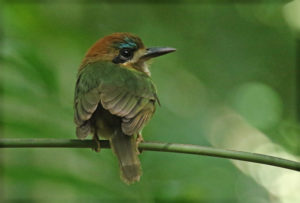 Day 10: Chan Chich Trails, Take Two
This morning might have taken the cake … at 8:30 AM, as we explored the beautiful trails of Chan Chich, a JAGUAR crossed the trail in front of us. WOWZA! A two-cat trip. What a way to round out an already incredible journey. The afternoon was then leisurely — lunch, a siesta, a swim in the pool. We then ventured out to the suspension bridge and watched the most intense Bare-throated Tiger Heron as it fished, oblivious to everything but its work. Tonight was our farewell dinner, reminiscing about the last 10 days with good friends.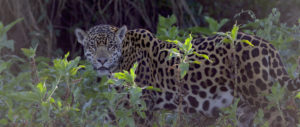 Day 11: Departures
And we were off, leaving in two shifts as a small plane took us and our luggage from the remote, wild, and wonderful Chan Chich lodge to the airport in Belize City. What a treat this trip had been!
---
To sign on to a Naturalist Journeys Belize birding tour, visit our website or call or email us today. 866-900-1146