We feel for the partners of birders who don't (yet?) share their avian passion. That is one reason we offer many wildlife safaris and cruises each year, creating fascinating trips that are bigger than birding.
We have seen many bird-curious partners and friends converted by these trips over the years, which is, of course, gratifying. But for others, these more generalist wildlife safaris and nature cruises are simply a great opportunity to travel together with more to see and do than non-stop birding. That said, be advised that we are a birding company and there is a significant amount of birding on ALL our tours.
Wildlife Safaris
All of our African safaris, our Brazil Pantanal tours and our Panama: Introduction to Biodiversity trips are definitely bigger than birding! Spectacular and charismatic wildlife and gorgeous landscapes are hallmarks of all of these tours. Photos are probably the best and easiest way to show what you will see, so below are short slideshows from each of our tours with space available.
Our South Africa tour, which includes time enjoying the wines and culinary delights of Cape Town and substantial time enjoying one of the world's most spectacular wildflower explosions, has already sold out for 2022. But watch this space for 2023 dates for a prime example of a 'bigger than birding trip' that is also a wonderful introductory trip to Africa!
We wrote a blog earlier this year about how to choose an African safari that is right for you, with many of Naturalist Journeys' founder Peg Abbott's insights. Below enjoy some of the sights available on our upcoming African safaris.
Landscape Photography: Ultimate Namibia-Botswana Tour
Our Ultimate Namibia-Botswana Combo: Birds, Wildlife & Landscapes is July 23 – Aug. 15, an unforgettable three week trip!
This trip would be perfect for a photographer who is interested in dramatic landscapes to accompany the wonderful wildlife viewing that characterizes all of our safaris. Along our route we witness massive red dunes, fanciful granite outcrops, isolated, iconic inselbergs, colonial Swakopmund on the scenic coast, and world-renowned Etosha National Park.
Gorilla Trekking, Chimpanzees & Other Primates: Uganda
On both of our Uganda tours, guests have the option of adding on treks to interact with endangered Mountain Gorilla and on the July tour, Chimpanzee. Our optional Gorilla trekking is in Bwindi National Park, a UNESCO World Heritage Site and is home to approximately half of the world's endangered population of Mountain Gorillas. This vast reserve offers arguably the most productive montane forest birding in Africa and supports 23 of Uganda's 24 Albertine Rift endemic bird species.
Be aware: Gorilla trekking is not for the faint of heart (or the bum of knee), though these encounters offer a stunning and emotional payoff at the end of your trek. Guests sometimes encounter Gorilla after as little as an hour of hiking with our guides and porters, but four or five hours of hiking would not be unusual.
Our Chimpanzee trekking is in Kibale National Park, the single best safari destination for Chimpanzee tracking in East Africa, home to an estimated 1450 individuals. This park contains one of the loveliest and most varied tracts of all tropical forests in Uganda and hosts 13 species of primates in total. It is also home to the rare L'hoest's Monkey and East Africa's largest population of the threatened Red Colobus Monkey. Other primates that you may see include the Black-and-white Colobus, Blue Monkey, Grey-cheeked Mangabey, Red-tailed Monkey, Olive Baboon, Bush Baby, and Potto.
Brazil & Pantanal Safari
July's trip to Brazil is already sold out, but there are still spaces on both our August 2-12 trip and our Oct. 11-21 trips.
We wrote a standalone blog about this wonderful safari to Brazil. Here is a gallery of a few not-birds you might see:
Panama: Introduction to Tropical Biodiversity
This year's Panama: Introduction to Tropical Biodiversity Oct. 1-9, is guided by charismatic Ph.D couple Howard Topoff and Carol Simon, who deliver informative and entertaining presentations on a wide variety of tropical biodiversity topics nearly every day on this tour.
Lodging is at the world-famous Canopy Tower, surrounded by the lowland tropical forests of Soberania National Park, and the fabulous Canopy Lodge, in the picturesque foothills of El Valle de Anton, both perfect locations for exploring tropical ecosystems.
Among the non-birding highlights in Panama:
Watch Geoffroy's Tamarin, Mantled Howler, and Brown-throated Three-toed Sloth in the surrounding forests
Spend time at the Summit Botanical Gardens, which houses more than 100 non-releasable animals — a great way to study many species difficult to see in the wild
Explore by boat on Gatun Lake, looking for Lesser Capybara, West Indian Manatee, and more
Enjoy an afternoon at the Panama Canal, learning its history and watching cargo ships go through the locks
Learn about the herps that live in Panama's forests during a presentation by guide Carol Simon called "Poisonous Reptiles and Amphibians of the Rain Forest" and also get a bat presentation!
Visit Cerro Gaital to learn more about the butterflies of the region, from the large Blue Morpho to the pretty little Passion Vine butterflies
Cruises: Bigger than Birding
Our cruises to the Galápagos Islands and Alaska's Northern Passages in particular are wonderful options for new birders, the birding-curious and friends and partners of birders.
North to Alaska!
Alaska's Northern Passages and Glacier Bay July 9-15, 2023 has the pleasure of being guided by Naturalist Journeys founder Peg Abbott. We have a standalone blog about this magical Alaska cruise, already sold out for 2022, so look alive if you want to sign up for 2023.
Built for close encounters with some of the most charismatic animals found anywhere in North America, the Safari Explorer is designed to go where mega cruise ships simply can't.
Charting our path amid Southeast Alaska's island archipelago, we are all but certain to see Humpback Whales, Orcas, Sea Lions and seals, seabirds, shorebirds and many other species, including Grizzly Bear!
Cruise to the Galapagos Islands
Journey to the Galápagos Nov. 6-13, 2022
Completely isolated from hunting pressure and with little-to-no fear of humans, Galapagos wildlife can sometimes seem to be hamming it up for your attention in plain, nearby view. In fact, if there was ever a place where nature photography can be had without lugging around a heavy telephoto, it's the Galapagos Islands.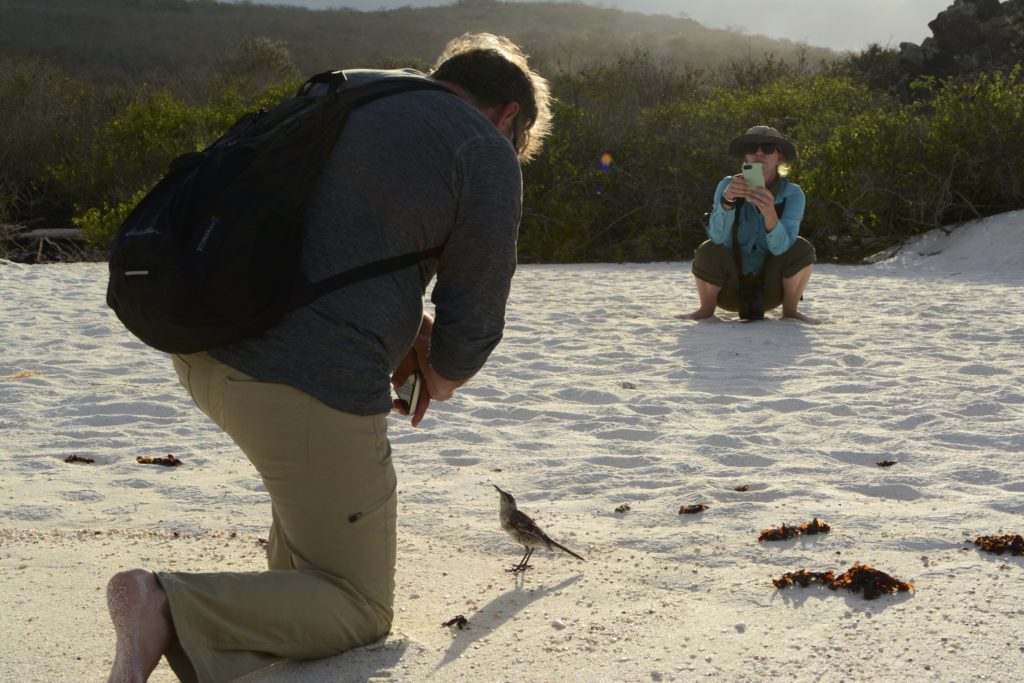 As we move among rugged black "new" islands of the volcanic island chain and the soil-, plant- and animal-colonized "old" ones, we swim and/or snorkel among colorful fish, and sometimes dolphins, turtles or even penguins, whose frenzied fishing swirls the schools. A visit to the Charles Darwin Research Station on Santa Cruz provides context and history to the conservation of this most magical place.
Safaris, Cruises, and Private Tours
For the non-birder, the new birder and the birding curious, Naturalist Journeys Wildlife Safaris and Cruises are all fabulous choices. In addition, you can take further control of your adventures by booking any of our tours with a group of friends as a private tour! We can also plan an Invdependent Birding Venture around whatever it is you want to see!