Between stunning landscapes, endless biodiversity, and top-notch coffee, traveling Costa Rica sits at the top of our must-see list. During our winter destination tours, Naturalist Journeys brings you to this tropical birding paradise. The opportunity to immerse yourself in the country's abundant wildlife is hard to pass up. These trips provide a chance to taste local cuisine, capture amazing photos, and of course, experience one of the most incredible birding tours on the planet.
Costa Rica contains a whopping 6% of the world's biodiversity—many species existing nowhere else in the world. This wildlife oasis contains an overwhelming roster of tropical birds including parrots, guans, curassows, hummingbirds, tangers, toucans, and MANY more. One of the perks of our relaxing mornings at various lodges are the feeding stations flooded with local birds. To give you a look into the trips, we came up with a colorful list highlighting some of our favorite finds.
Scarlet Macaw
Even the slightest glimpse of the Scarlet Macaw will put a smile on your face! We hope to find this stunning parrot soaring across the treetops in groups or pairs.
Orange-collared Manakin
Known for its bright orange "collar" the Orange-collared Manakin boasts a unique mating call with an electric "snap" and is a delight to watch. We hope to see this bright little bird on lek.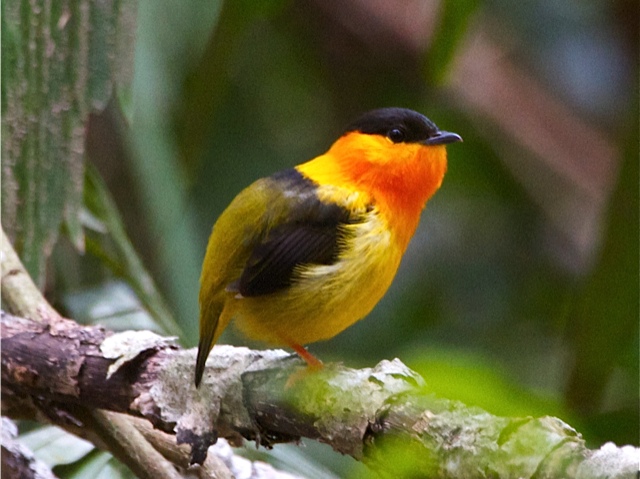 Yellow-throated Toucan
These large, fruit-loving birds are as social as they are beautiful. We had great sightings of Yellow-throated Toucans flying across the road as well as soaring above our heads on a recent tour.
Green Honeycreeper
While these green beauties stand out in a crowd, they actually use their unique coloring to blend in with the thick rainforest foliage. Needless to say – catching a look of a Green Honeycreeper is always a treat.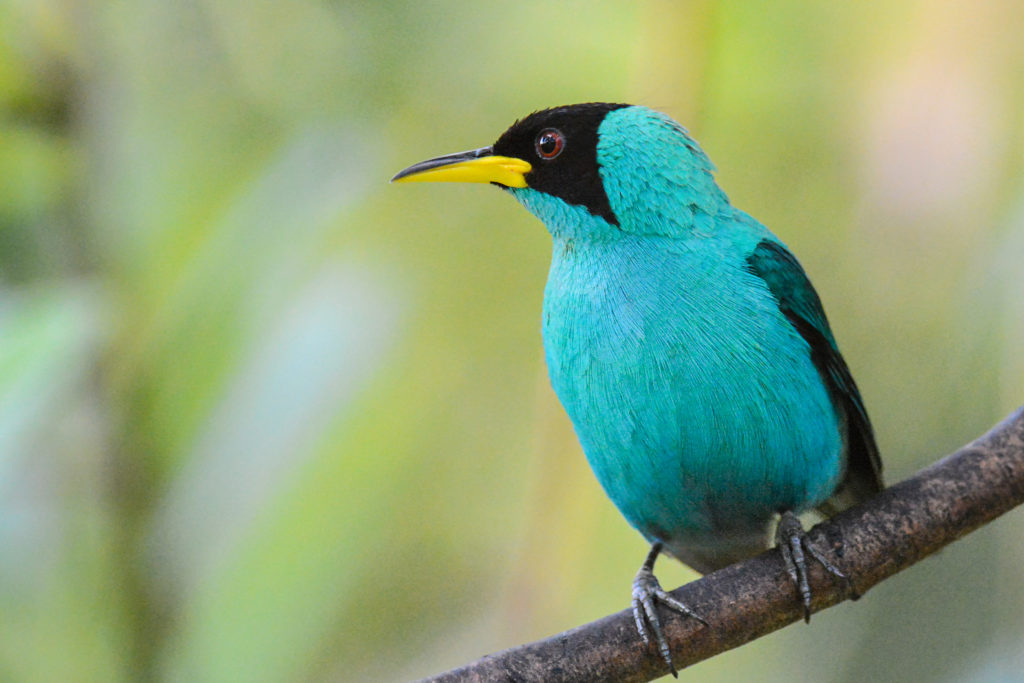 Blue Dacnis
We spot this striking blue tanager in the canopies. Although it is common to lay eyes on one of these, its beauty never disappoints.
Purple Gallinule
The Purple Gallinule dazzles with its purple feathers and blue-green wings. It even has a unique talent! This nimble waterbird uses its long, yellow legs to tip-toe across lily pads – a sight worth seeing!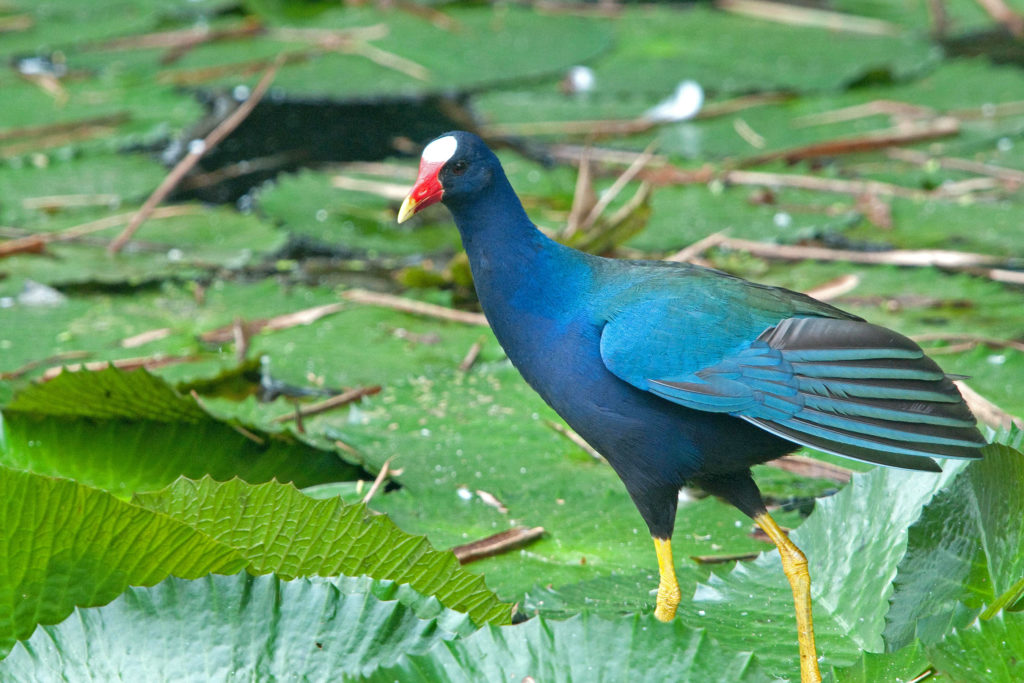 It only seems right to acknowledge the two birds that deserve the award for most colorful. The Fiery-throated Hummingbird features a wide variety of colors resembling an oil-slick rainbow. Wildly designed, the Resplendent Quetzal is found in tropical rainforests ranging from Mexico to Panama and is the subject of various Mesoamerican myths. Its vibrant feathers are unmistakable and on our winter tours, we expect to see the males in full breeding plumage (hello, tail feathers).
Noteworthy Neutrals
Finally, it feels necessary to give our flightless friends some recognition. Although Costa Rica is a tropical birding paradise, there are many sights to be seen. Here are some animals you just might spot on your trip:
Brown-throated Three-toed Sloth
The slow-moving Brown-throated Three-toed Sloth is loved by many. Our favorite attribute of this animal is its upturned mouth, giving them a constant smile.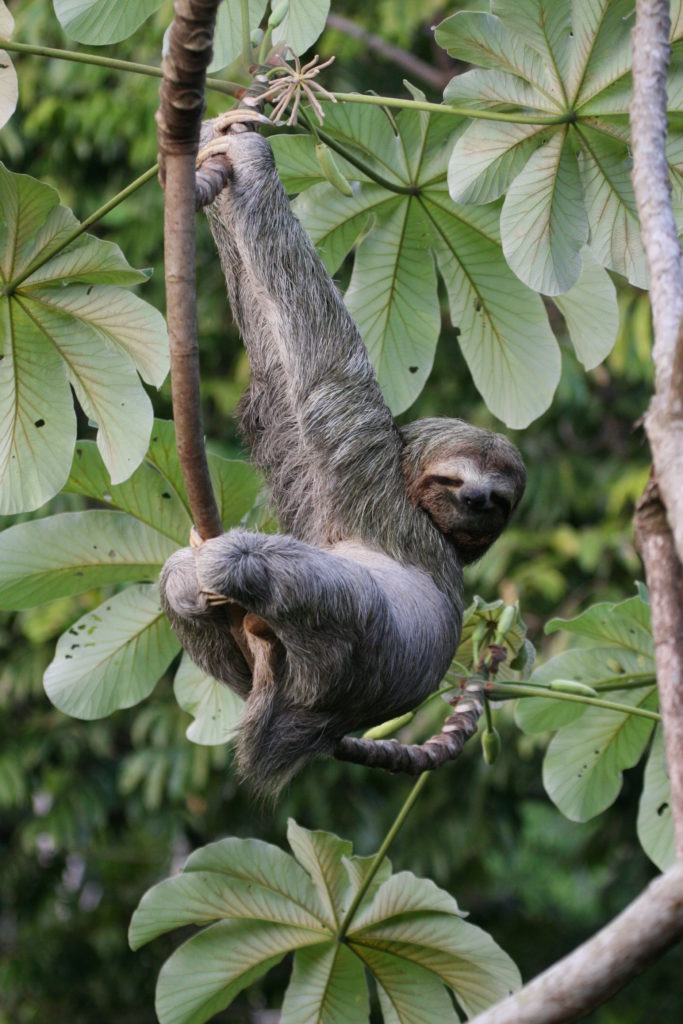 Mantled Howler Monkey
These monkeys are local to South and Central America and known for their loud calls (that can be heard up to three miles away!) and beard-like facial features. While they prefer the rainforest, we spotted several young howlers in someone's yard on a recent tour. Mantled Howler Monkeys are one of many endangered species in Costa Rica being displaced by habitat destruction—so it is an honor to witness them in the wild.
Whether you're a seasoned birder, looking to add to your life list, or seeking a perfectly crafted adventure, our Costa Rica birding tour package has something for everyone. Click here to find out more about taking a winter trip to this tropical birding paradise with Naturalist Journeys.
And before you go, click the link below to get instant access to trip announcements and the latest birding news!