Our British group greatly enjoyed their tour of the Southwest National Parks.
By Guide Pat Lueders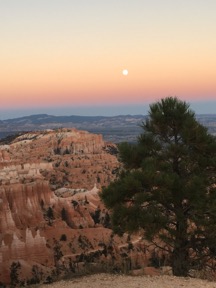 Sharing five of our magnificent Southwest National Parks with visitors from Great Britain was the hidden pleasure of leading Naturalist Journeys' September Southwest National Parks trip to Utah and Arizona. The 2016 tour was shared by three couples that weren't acquainted at the beginning of the trip, but they became great friends by the conclusion of this exciting adventure. The beauty of the scenery, the discovery of new bird species, the sighting of unusual mammals, and the variety of reptiles we saw kept the British group in a constant state of excitement.

We first visited Capitol Reef, offering close views of petroglyphs and a hike through a slot canyon. Bryce Canyon National Park offers spectacular rim views of Hoodoos both at sunrise and sunset. We cruised on Lake Powell to the Navajo Nation's sacred Rainbow Bridge, considered one of the natural wonders of the world. The Grand Canyon overwhelmed every visitor with its expanse and beauty. Finally, Zion National Park completed our journey, offering towering red cliffs jutting to the sky.
Each park offered its own unique adventure, and no two visitors agreed on which one was their favorite. They did agree that the favorite birds of the trip were the migrating Wilson's Warbler, seen from above on the rim of the Grand Canyon; the animated Hairy Woodpecker, which we followed for an extended time along the Geologic Trail; the Red-naped Sapsucker, found near Capitol Reef National Park; and the Greater Roadrunner, seen running from bush to bush at the Lake Powell Resort. After an informal vote, the Wilson's Warbler is chosen as our number one.
We experienced the remnants of a tropical storm at Zion, but safely avoid the flash flooding so dangerous to visitors of these mountain canyons. The storm followed us on the departure day to Salt Lake City, but we all left on schedule, and we agreed that we would always remember the many unique experiences that we shared during this magical trip!