Birding the New World Tropics is incredible, but where to start!?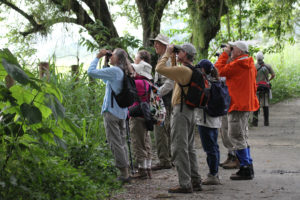 We often travel with birders who are new to or working their way through birding the New World Tropics. But if you're not a pro, it can feel a little overwhelming. So before you dive right into South America, "The Bird Continent," with species numbers over 1500 in destinations like Colombia or Peru, we recommend a stair step approach to keep it fun, and not daunting! Each trip you take builds your neotropical knowledge so that when you do travel to the highest diversity locations, you arrive with more experience.
Below is a great destination guide to help you make the right choice about your next trip.

Step 1: Trinidad
Trinidad and Tobago have long been considered the best introduction to neotropical birding possible — and if you've been there, you know why! The islands contain a diversity of easily-accessible habitats that allow unparalleled access to some of the world's most beautiful birds.
Trinidad, only seven miles off the coast of Venezuela, contains an abundance of species found in northeastern South America, while Tobago's avifauna is more aligned to the Caribbean.
Our partner company, Caligo Ventures, books all of our Trinidad travel.
Step 2: Belize
Once you've done Trinidad and Tobago, traveling to Belize is the natural next step in birding the New World Tropics. So why Belize? With around 590 recorded bird species in a country that's just the size of Massachusetts, it's easy to transition between habitats as you build your birding knowledge. An added bonus? World-class eco-lodges, Mayan ruins, jaguars … the list goes on!
We offer several tours and Independent Birding Ventures to Belize, including our guided group tour February 22 – March 3, 2017.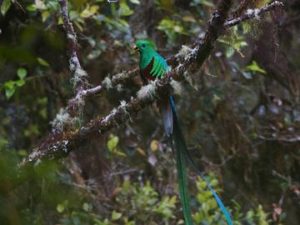 Step 3: Honduras
Once you've done either Trinidad or Belize, Honduras is the natural next step. The landscape is more rugged, with mountains, inland lakes, and coastal beaches adding more habitat to explore. And with more habitat comes more birds — nearly 740 species!
We are privileged to have Robert Gallardo, the author of Honduras' premier field guide, Guide to the Birds of Honduras, leading our tours. Our tours include the fabulous Mayan ruins at Copan, the mix of lake and mountain species at Lago Yojoa, and fantastic hummingbirds and more at Rio Santiago Nature Resort, adjacent to Pico Bonito National Park. This spring we travel to Honduras March 24 – April 3, 2017.
We also offer a two country relaxing lodge stay in Belize and Honduras as a guided group tour or as an independent option — enjoy great birding at two of Central America's finest ecolodges: Chan Chich and Pico Bonito.
Step 4: Costa Rica (worth two trips!)
Moving down the Central American isthmus, a visit to Costa Rica will increase your neotropical birding depth, and is the next stop in birding the New World Tropics. Some 900 species of birds have been found in this eco-travel-savvy country, including 75 different families. Wow! It's in Costa Rica that we also see a good species variety on Atlantic and Pacific sides of the country, divided by the towering plateau of the Talamanca Range.
Since there is such wide-ranging birding opportunity in Costa Rica, we offer two different trips:
1) Our standard itinerary, January 13 – 20, 2017 (full!), transects the Talamanca Range, crossing from the Atlantic lowlands to a mid-montane site, then moves on to a lush mountain valley and over to the Pacific lowlands and wetlands — wow!
2) Our Southern Costa Rica trip travels down the Pan American highway to the beloved Savegre Mountain Lodge, on to the Wilson Botanical Gardens, and finally to Esquinas Rainforest Lodge.
We also have many Independent Birding Ventures to Costa Rica. Owner Peg has made over 15 trips here; she and two of our senior guides, Rafa Campos-Ramirez and Willy Alfaro, are happy to help you choose the right trip.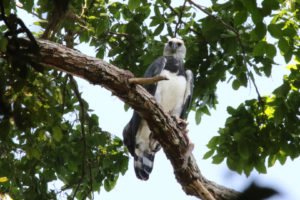 Step 5: Panama
Panama, "Bridge of the Americas," will simply blow your mind. This nation is the best meeting ground of North and South American birds. With around 950 species of birds, you can understand why it's helpful to work your way into birding this country. You can choose our ever popular Panama Sampler (Feb. 1 – 9, 2017 (full!) and Mar. 21 – 29, 2017), or go deep into the Darién where biodiversity abounds as you get closer to Colombia and the South American mainland. Our Sampler includes the comforts of two amazing ecolodges, or follow the call of adventure at a safari-style camp in the Darién. Mammals are numerous on these itineraries, and currently the Darién has an active Harpy Eagle nest!
If independent travel is your style, we also offer Independent Birding Ventures to Panama that follow our Sampler itinerary, as well as relaxing lodge stays.
Step 6: Guyana
Just across from Trinidad, but part of mainland South America, Guyana is a hidden gem. With just shy of 800 bird species, Guyana is the natural next-step into South American birding. We visit Guyana Feb. 26 – Mar. 10, 2017.
We often see exciting birds like Harpy Eagle (in fact, on our last few visits we had an active nest at one of our stops!) and Jabiru, as well as members of the odd cotinga family: brilliant Guianan Cock-of-the-rock, wine-and-white Pompadour Cotinga, and elfin Dusky Purpletuft. In addition to awesome birding, the mammals in Guyana are incredible … think Giant Otter and Giant Anteater!
We also enjoy a stay in cozy casitas at Surama Village, where our visit supports the Makushi tribe and their exceptional eco-tourism initiative.
Step 7 … the Grand Finale: Colombia!
This is it! You've made it! Colombia is the pinnacle of neotropical birding, with the most bird species of any country in the world — more than 1800. We suggest starting with our Colombia Santa Marta tour, Mar. 12 – 20, 2017, where mountains meet the sea on the nation's Caribbean side — home to 21 fantastic endemics. This trip is designed to pair well with our Panama Darién tour — just a short flight).
We're thrilled with news of the peace accord signed for Colombia, and can't wait to offer you more ways to visit. Stay tuned …
So What's After Colombia?
Ecuador, Brazil & Peru
From here we suggest Ecuador, Brazil, and Peru and our Colombian Andes tour where diversity is even higher than our Santa Marta tour.
Can I Cheat?
Absolutely. We realize that not everyone has unlimited time and financial resources for birding the New World Tropics. It might make the most sense for you to skip a step or two … or you're just really eager to get to the meat of the neotropical birding experience.
Talk to one of our Travel Planners about birding the New World Tropics and about how to build the travel experience that's right for you.