Naturalist Journeys' upcoming Southern Belize: Pristine & Wild tour is a gem! Our group enjoys birding with top Belize birding guide Estevan (Steve) Choco in 2019. Here's why you should sign on to this exciting Southern Belize nature tour.
By Bob Meinke, Guide with Naturalist Journeys
---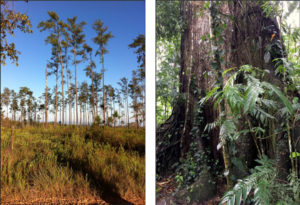 Intact Ecosystems & Sought-After Species

Belize retains the highest percentageof its original old growth tropical forest of any Central American country, much of it in southern districts. Exploring on this Southern Belize nature tour is an impressive experince, but it's not all about birds: Charismatic land mammals such as Black Howler Monkey, Geoffroy's Spider Monkey, Tayra, Kinkajou, and Baird's Tapir are not unexpected during treks here along wooded trails. (We even crossed paths with a Jaguar on a recent trip.) But did you know that Belize also has extensive Honduran Pine forests at the cooler, higher elevations, with a completely different set of species? We explore both ecosystems during this intriguing trip.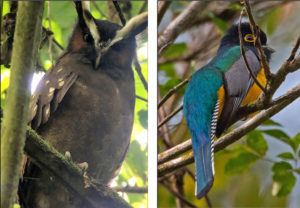 A Southern Belize Nature Tour is a Great Start to Birding the Neotropics
Over 600 bird species have been recorded in Belize (astonishing for a nation the size of New Jersey), which is widely considered an ideal destination for first experiencing neotropical birding. With so much accessible quality habitat remaining, we're never surprised when we encounter seldom reported species such as Crested Owl, Pheasant Cuckoo, or Agami Heron, in addition to the expected medley of colorful warblers, tanagers, trogons, and flycatchers. Yet while birds and other wildife are plentiful here, traveling with the right guides is critical to getting the most from your trip.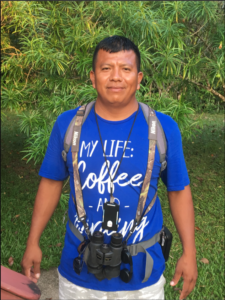 So Bird with The Best
Raised in the local Kek'chi Maya community, Steve Choco is one of the top local guides in Belize, and a great resource for visitors exploring on this Southern Belize nature tour. Steve developed his love of nature and his early fascination with wildlife during camping trips with his grandfather in the Belizean bush. Recognized today for his unparalleled birding skills, Steve was the 2017 recipient of the prestigious National Tour Guide of the Year award, given annually by the Belize Tourism Board. Naturalist Journeys relies on Steve and other experts to ensure high quality birding (and cultural) experiences for travelers.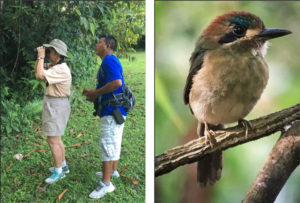 Conservation Ethics & Responsible Tourism
An active member of the Belize Bird Records Committee, Steve Choco is the lead birding guide for The Lodge at Big Falls in Toledo District, a perfect base for exploring on our Southern Belize nature tour. Steve and The Lodge at Big Falls recognize that a strong ecotourism base is key for sustainable development in Belize. It is also vital to on-going conservation efforts for a wide range of wildlife species and plant communities, many of which depend on economic alternatives to deforestation resulting from logging and plantation farming.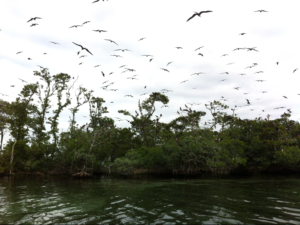 Mangrove Estuaries
Biodiversity in Belize abounds off-shore, as well. A large number of aquatic species are closely linked to the mangrove-lined shallows along the coastline of Belize, and we spend a full day on the water investigating habitats that support terns, anhingas, tiger-herons, limpkins, Wood Storks, kingfishers, and black-hawks, just to name a few. The seagrass beds here are also the favorite haunt of West Indian Manatees, and southern Belize is a prime location for viewing this unique sea mammal, currently listed as globally Threatened by the U.S. Fish and Wildlife Service.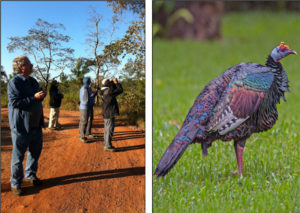 Mountain Pine Ridge
The pine forests of the Mountain Pine Ridge and adjacent Maya Mountains offer a startling contrast to the tropical lowlands of Belize, allowing us to compare two very different habitat types. Early morning birding on the ridge can actually be brisk, and our secluded lodge here (Hidden Valley Inn) is one of the few places in Belize where you'll find fireplaces! While some of the local mammals may be familiar (Cougar or Grey Fox, for example), birds such as Azure-crowned Hummingbird, Yellow-backed Oriole, Plain Chachalaca, Stygian Owl, and possibly even Ocellated Turkey will remind us that we're definitely in a different place.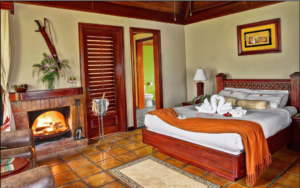 Remote but Comfortable
Both Hidden Valley Inn and The Lodge at Big Falls provide comfortable lodging (and exquisite dining) despite being well off the beaten track. Considering that our days are often active and stacked with activities, it's nice to know that when you're ready for some post-birding down time before dinner, or simply need a bit of a break on a given day, you'll be well looked after. And if you change your mind and suddenly get the urge to grab your binoculars once again, both lodges offer splendid birding right on their grounds, literally just outside your door.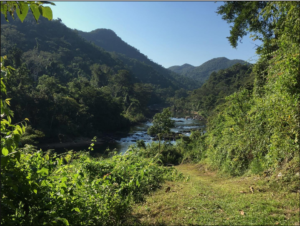 A Road Less Traveled
Belize is not an uncommon destination for birders. There are wonderful lodges, welcoming people, world-class Maya sites, and excellent opportunities for wildlife viewing. It's hard to go wrong when you decide to visit Belize for your birding vacation. What isn't so common is choosing an itinerary that focuses on the southern half of the country, which is far less visited. So if you've never been before, southern Belize is a fascinating introduction to the country. And if you have been (but never to the south), come check out some new birds and captivating landscapes on Natualist Journeys' Southern Belize nature tour. It's time to see Belize from a new perspective!
---
Naturalist Journeys' 2019 Southern Belize: Pristine & Wild tour is February 22 – March 2 and includes an optional pre-tour extension to Crooked Tree, a world-class wetland. Pricing is $3590 based on double occupancy, from Belize City. With 7 or more participants, Natuaralist Journeys' Bob Meinke will join your local guides.