A Guest Blog From Guide Emeritus Woody Wheeler
Finally, after a two-year Covid delay, Lori and I were able to take the inaugural Naturalist Journeys: Israel Birds, Nature and Culture with good friends Bill and Denise.
To maximize the opportunity, we added a few days before and after the tour to explore on our own. The combined experience provided an excellent overview of Israel's natural, geographical, cultural, and historical wonders, which are abundant for a country approximately the size of New Jersey.
Few realize that Israel is an outstanding place for birds. Situated along the Mediterranean Sea between Eurasia to the north and Africa to the south, it is a major corridor for bird migration.
According to Colum McCann in his outstanding novel Apeirogon, "Israel is the world's second busiest migratory superhighway: at least four hundred different species of birds torrent through, riding different levels in the sky."
We found four "life birds" on our first day in Tel Aviv: Eurasian Hoopoe, White-spectacled Bulbul, Egyptian Goose and Graceful Prinia. On other walks in Tel Aviv, we browsed the extensive open market and the Bauhaus Architectural district. Tel Aviv is a vibrant city that blends the old with the new.
On day two, Lori arranged a private Israel bird tour to Caesarea and Haifa. We explored the Roman ruins and seaside retreat of King Herod, a man with a checkered past, who left behind iconic structures in Caesarea, Masada, and the Temple of the Mount. Our day concluded with a spectacular view of the port city of Haifa with the Bahai gardens in the foreground. Bahai is one of four major world religions that consider Israel a holy place. The other three are Christianity, Islam, and Judaism.

That evening, we met our amiable group of 12 and received an overview of our upcoming tour: Israel Birds, Nature, and Culture. The tour route followed most of the country's external borders. We often birded by barbed-wire fences marking the surrounding and sometimes hostile borders of the surrounding countries of Egypt, Jordan, Syria, and Lebanon. We also birded in or next to former war zones, including the Golan Heights, Gaza Strip and the West Bank. Other birding spots included places restored after previously being drained to control malaria.
We skipped stones in the Sea of Galilee, watched wild Ibex roam and Griffon Vultures soar near the gravesite of David Ben-Gurion, Israel's first prime minister. We observed thousands of Common Cranes migrating south into the Hula Valley near Lebanon, and floated in the Dead Sea – so relaxing and invigorating!
Over the 14-day span of this amazing tour, we saw 180 species of birds, including more than 100 "Life Birds" for Lori and me; 13 species of mammals, 13 species of reptiles and amphibians, 8 species of butterflies and a Giant African Mantis. Some of the bird species were in entirely new families for me, including four species of Sand Grouse, eight species of Wheatears, two Cisticolas, One Bulbul, two Reed Warblers, one Bustard, a Thick-knee, Hoopoe, and a Sunbird.
Israel's geology was a surprise highlight. Ein Avdat Canyon, Makhtesh Ramon Crater, The Great Rift Valley and red rock formations of the Arava Desert reminded us of landscapes in the American Southwest. Mt. Hermon with its 9,232-summit in Syria, and its western flanks playing host to Israel's only ski area, is part of the famous Golan Heights. In contrast to towering Mt. Hermon and the Golan Heights, at 1400 feet below sea level, the Dead Sea is the lowest point on earth.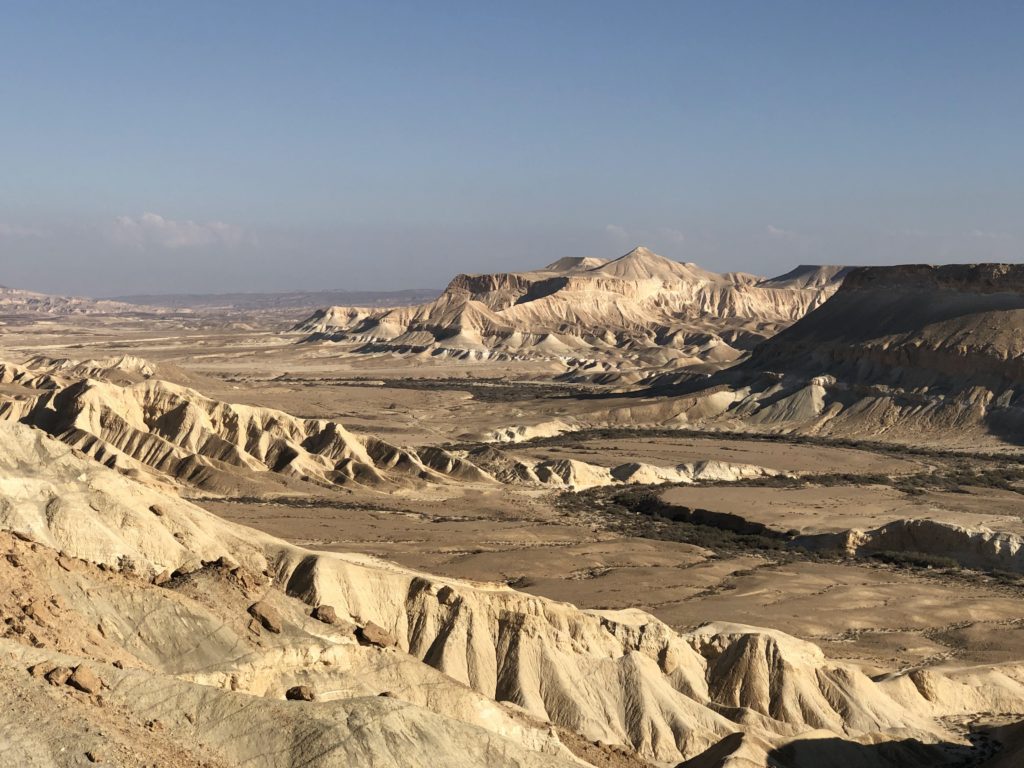 Jerusalem is a city like no other. Its sense of history, culture, and religious fervor resonates. The many who travel there from all over the world openly express their affection for this holy city.
Walking on the ramparts of the city's historic wall was an ideal way to review the city's complex history and enjoy expansive views of the past and present. Mark Twain once noted that Israel has more history and culture packed into a small area than any other place on earth. It also has world-class birding, natural history, geology, and as if all of this were not enough, outstanding food!
Israel book reccomendations: Apeirogon by Colum McCann; Birds of the Middle East by Abdulrahman Al-Sirhan, Jens Eriksen, and Richard Porter; Israel – a Concise History of a Nation Reborn by Daniel Gordis; The Lemon Tree – An Arab, a Jew, and the heart of the Middle East by Sandy Tolan.