Our Top-5 reasons to make Southeast Alaska your 2017 nature experience. Highlights from Naturalist Journeys' Southeast Alaska Wildlife & Birding Tour.

1: It's Not a Cruise!
As a company, we've typically stayed away from Southeast Alaska for our birding and nature tours, turned off by throngs of cruise tourists. We've read reports of cruise ships' negative affect on local towns and native communities, keeping profits within the cruise company — and that's just not our goal as a company (check out our mission statement). We looked long and hard to find an "un-cruise" option in the region and we struck gold when Naturalist Journeys' owner Peg Abbott visited the town of Gustavus, and its wonderful Gustavus Inn. Dave Lesh, owner and proprietor, has welcomed guests for 35+ years, carrying on three generations of family tradition. This beautiful and quintessential Alaskan inn allows us to live like locals for a week in the heart of Southeast Alaska's iconic beauty, where we can simply unpack once, relax, and soak it all in. It's a nature tour at its finest (and quite possibly at its most relaxing).


2: Whales, Whales, Whales!
Feasting Humpback Whales feed regularly in Glacier Bay's Icy Straits, where Gustavus provides humans an oasis in a stunning wilderness realm adjacent to Glacier Bay National Park. The Humpbacks we see on this tour regularly swim between Alaska and Hawaii; we love to watch them day after day, so much at home here. And oh, the size of these mammals! The whales often come so close we can see their skin texture, their blowholes bigger than dinner plates. Over several days, we start to recognize a few individuals by their tail pattern.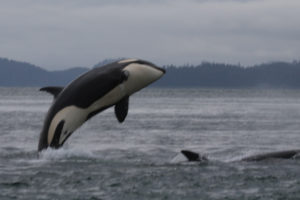 And while the Humpbacks surely put on a show, for many, the Orca show we had on our August 2016 tour was a trip highlight. We first saw a line of tall dorsal fins round a point close to shore. Then, there was a massive commotion and Orca began leaping! We saw many come fully out of the water! A calf gleefully stayed in the middle of the action, unfazed as huge bodies crashed down like cannons. It seemed this group had a Steller Sea Lion kill, and we certainly enjoyed their celebration. Wow!

3: A Foodie's Dream
Ok, so even if you're not a foodie, the James Beard award-winning food at the Gustavus Inn is worth writing home about. Enjoy time in the Inn's lovely, shared dining room where you feast on local fare. Breakfast is often homemade granola, rhubarb sauce, sourdough pancakes with real maple or local sprucetip syrup, eggs, thick-cut bacon, and delicious coffee or tea. Lunch can be soup and salad from the Inn's garden, or sandwiches that the Inn packs for when we are afield (gourmet picnic, anyone?). And dinner is an event! The many courses come out with precision; each night is a different fresh fish, garden vegetables, a few mouthwatering sides, and then desserts that could be the cover shot of a magazine. Rhubarb from the garden is made into sauce and sweets. And there's even an international touch to the cuisine too; the salsa has a good kick! And as with all Naturalist Journeys' tours, it's meal time when we get to know each other best.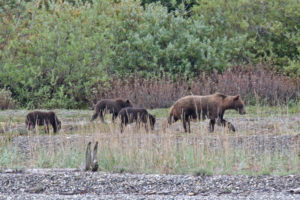 4: Wildlife, Galore
To say Southeast Alaska is wildlife-rich is an understatement. Here's a list of just some of the fauna we saw during our August 2016 tour: Feasting Humpback Whales; leaping Orca; Sea Otter; Steller Sea Lion; Harbor Seal; geese and mergansers; Common Murre; Marbled Murrelet; Rhinocerous Auklet; both Horned and Tufted Puffins; Belted Kingfisher; Great Blue Heron; and everywhere, sometimes over 40 a day, Bald Eagle stole the show. Clouds of Black-legged Kittiwake; Red-breasted Sapsucker; Rufous Hummingbird; and warblers: Orange-crowned, Yellow, and Wilson's; rafts of Surf Scoter, each with over 1000 birds; migratory flocks of Red-necked Phalarope bobbing in the sea by the thousands; Parastic Jaeger; Kittlitz Murrelet; Glacous-winged Gull; Canada Geese; Chestnut-backed Chickadee; Golden-crowned Kinglet; and the never-ending serenade of Pacific (Winter) Wren; the iconic Alaska coastal Grizzly Bear; Sitka Deer; Mountain Goat on steep slopes near waterfalls. Phew!
5: Sheer Beauty
Coming in by plane, you have stunning views of glaciers and lush green forests. Gustavus sits on Icy Straits, a sheltered area bathed by currents that reach in from the Gulf of Alaska. The sheer beauty of the place is a magnet, this ocean playground framed by rugged peaks of the Fairweather Range and the brooding forests of Chichagof Island. Enjoy a hike around a loop on the Nagoonberry Trail, a Nature Conservancy Preserve, through a mix of cottonwoods and conifers with breaks for ocean views. Really, Southeast Alaska is stunning.