1. Join a Great Leader
Our friend and colleague Bob Behrstock has led groups, private clients, and nature festival tours in the Texas Hill Country since 1980, so he knows the region like his own backyard (P.S. Have you seen Bob's list of backyard birds? Amazing!). Bob is also a photographer and writer — he's even prepared several family accounts for The Sibley Guide to Bird Life & Behavior. His expertise in birds, damselflies, and butterflies makes this a well-balanced journey.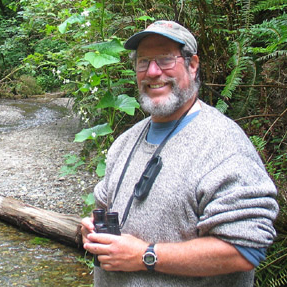 2. Experience Terrific Birding
Birding the Texas Hill Country allows you to see a fantastic array of Eastern and Western species occurring side by side; in April numbers surge as northern migrants pour through, as well as few colorful species from South Texas. Desirable Painted Bunting, Long-billed Thrasher, Olive Sparrow, and others can be found right at our lodge!
3. Find Rare & Endangered Species
Texas Hill Country is the perfect place to see endangered and vulnerable species like the federally listed Golden-cheeked Warbler — the only bird whose nesting range is restricted to Texas — and the highly-local Black-capped Vireo, the smallest and arguably most elusive vireo.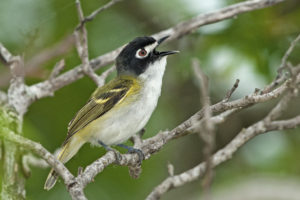 4: Visit Significant Geography
Driving from San Antonio, you drive up the rugged Balcones Escarpment to top out on the expansive karst topography of the Edwards Plateau. Vegetation here is the southernmost expression of the Great Plains, which mingles with elements of the adjacent Texas Brush Country. The Edwards Plateau is sandwiched between great rivers — the Rio Grande (Del Rio), Colorado (Austin), and Pecos (via the Stockton Plateau).
5. See Ecological Connections
Ash Juniper thrives on limestone soils of the Edwards Plateau. Golden-cheeked Warbler make their nests from thin strips of bark peeled from the Ash Juniper; their range in Texas is tightly tied to the terrain of this tree. They only nest in juniper-oak woodlands of central Texas and winter south in Mexico. And this is just one of many fascinating Texas Hill Country stories!
6. Enjoy Texas Hospitality (Friendly Locals & Generous Portions)
Try a big helping of Chicken-fried Steak. Try talking with a drawl. Find out why Texas' state flag can fly at the same height at the national flag. Drive country roads, eat in small-town cafes, make some new friends, and don't worry about locking your door. Neal's Lodge has attracted guests, including generations of birders, since 1926. Did we mention ice-cream at the old-fashioned soda fountain in Uvalde?
 7. Swim & Float on a Texas Pure-Water River
Slip into the refreshing waters of the Rio Frio, which, like the Nueces River, flows across Texas Hill Country over white limestone beds, bordered by towering Bald Cypress. It doesn't get much prettier than this. Locals float by and tubing seems like a national sport. These rivers also attract an exciting abundance of Texas specialty birds.
8. Lie in a Bed of Wildflowers (Think Hill Country Penstemon, Texas Bluebonnet, Scarlet Leather-flower, Twist-leaf Yucca, Antelope-horns Milkweed, and myriad more.)
Drive country roads lined with color — so much color that we stop often. Some years it's a spectacle and some years it's a search for precious patches, but always, the Texas Hill Country in spring rhymes with flowers. Guide Bob Behrstock networks with local botanists to help you find them.
9. Share Sunset with Bats (Over a million Mexican Free-tailed Bats emerge from their cave like an endless plume of smoke.)
Grab a seat at sunset and wait. At first it all seems very slow; Red-tailed Hawk and other raptors gather as they await their dinner. Then … a few bats fly past you … then more … then a river of bats comes streaming out of the cave! These fascinating creatures may fly hundreds of miles during the night as they feed, before returning to the cave where their offspring wait. As day gives way to night, it's all about bats and stars.
10. Look for Lost Maples!
Texas has amazing state parks; Lost Maples State Natural Area is one of the best. Hike trails lined by Uvalde Bigtooth Maples and keep your eye on Can Creek and the Sabinal River for Green Kingfisher. Ash Juniper? You got it, Golden-cheeked Warbler. And did we mention the pie at the Lost Maples café? Just wait 'til you try it!